The programming of

is simple, intuitive and guided by dedicated tools. The configuration of device networks, graphic pages, data logs, trend charts and customised reports is very simple and requires no special expertise in information technology.
Languages

is available in a variety of languages: English, Italian, Spanish, French, Polish and Russian. Other languages can be added to meet special needs.
Home page of Synergy
The

home page summarises key diagnostic information and permits immediate verification of the state of the system.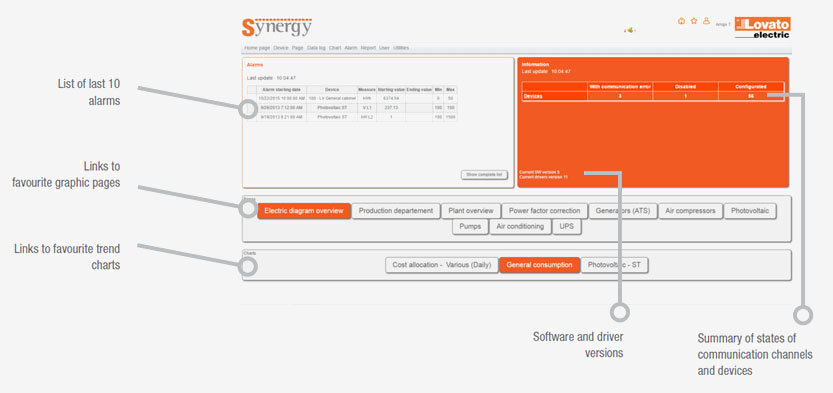 Access levels

permits access by a large number of users at three different privilege levels:

Power user
can view only the devices defined by admin, creates and modifies pages, reports and graphs, exports and modifies device parameters
Communication networks and channels

interfaces only with LOVATO Electric products. The software is able to simultaneously manage various communication channels (different TCP/IP addresses, RS232, RS485 and Ethernet communication ports), each independently configured (e.g. for protocol and speed).
In addition to physical connections in cabled networks,

can also connect to analogue and GSM/GPRS modems. Communications are handled by the Modbus RTU, Modbus ASCII and Modbus TCP/IP protocols.
Modbus RTU, Modbus ASCII and Modbus TCP/IP protocols are all available.
LOVATO Electric products connected directly to an Ethernet network can also work with dynamic TCP/IP addresses, permitting the use of a single static IP address for the server.
Management of interfaced products
The control menu includes: the principal information about the monitored equipment, communications with the software and the most recent readings. The menu allows users to edit the internal parameters of the various devices, save them to hard disk and re-load them for quick copy of configurations to other devices.
To optimise data traffic on communication networks,

cyclically acquires only the data needed for the Data Logs and other data required by the active graphic page.