Greater attention to efficiency
The main objective of energy efficiency in industry is to continuously reduce energy consumption and associated costs.
This means improving the relationship between the services, goods and any energy, both produced or consumed to produce them (Directive 2012/27/CE).
Efficiency =
services + goods + energy produced
energy consumed
In a well-organised industrial or service organisation, energy efficiency needs to be improved in a continuous, coordinated and interactive manner. This requires a systematic approach involving all levels of the organisation.
Guidelines
The standard that provides the necessary framework is EN ISO 50001 "Energy Management systems – requirements with guidance for use". This standard also integrates effectively with the ISO 9001 quality and ISO 14001 environmental management systems.
As with other management systems, the ISO 50001 standard defines different phases for planning (and measuring), implementation, verification of results, and continuous improvement actions.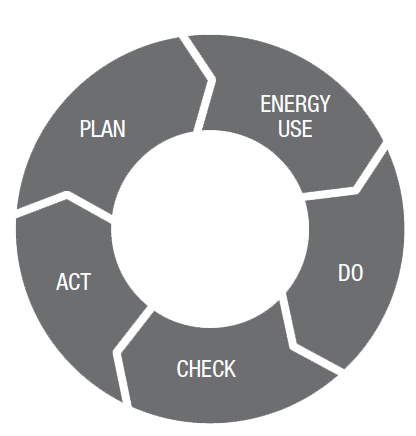 Continuous improvement –
Optimise the consumption of energy
Plan
Establish a baseline for energy consumption.

Design
Construct an energy model and establish EnPI's: Energy Performance Indicators.

Intervene
Introduce suitable changes.

Analyse
Measure and analyse data.

Improve
Act to improve energy efficiency.
ISO 50001 standard requires the implementation of an Energy Management System as a fundamental prerequisite for remaining competitive by optimising costs and resources.
The continuous improvement of the Energy Management System described by the Plan-Do-Check-Act model (the Deming cycle) can only be effective if key energy data is constantly collected and analysed.
SYNERGY  web-based supervision and Energy Management software provides all the functionalities needed to monitor and manage electrical energy systems simply and effectively. SYNERGY lets you perform an accurate review of energy data and obtain a precise evaluation of your Energy Performance Indicators (EnPI's).
Model of the Energy Management system according to EN ISO 50001
Energy policy:
definition of objectives, resources, investments and planning of energy optimisation.

Energy planning:
the identification and implementation of activities designed to improve energy efficiency and to meet the targets set by applicable legislation.

Implementation and functioning:
the carrying out of improvement activities according to the planning established in the energy policy.

Verification:
the control of performance through continuous monitoring by a measurement and analysis system referred to the requirements of applicable legislation.

Monitoring, measuring and analysis:
the creation of a baseline (starting point), the identification of main loads, the definition of EnPI's (Energy Performance Indicators), and the comparison of actual and planned consumption for listed loads.

Non-conformities, corrective actions:
detection of failures in activities and targets and subsequent interventions to correct the activities and meet the targets concerned.

Internal audit of the Energy Management System:
the assessment of the organisation's energy efficiency according to European standard EN 16247-1/2/3/4.