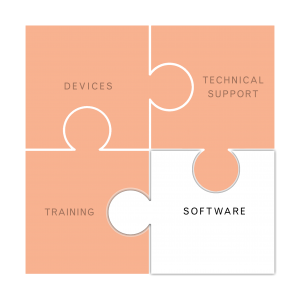 SYNERGY is a supervision and Energy Management web-based software that provides the monitoring and control of the electrical installation, from every computer or mobile device through the most popular web browsers in a simple and efficient way. In addition to electrical quantities, it allows to check all environmental and process information (operating status, alarms, etc.), acquired from LOVATO Electric products or third party devices with Modbus-RTU compatible protocol; it allow thereby to carry out commands and parameterising.
SYNERGY is available in the On Premises version and in the Cloud subscription service.
The SYNERGY interface is compatible with all common web browsers
Communication with all LOVATO Electric measurement and control devices, via serial ports, Ethernet or modem
Integration of third party devices with Modbus
Reading of instantaneous values
Definition of custom pages with charts, data tables, measure indicators and alarm conditions
Data tables which can be exported to customisable files, for example to generate reports with user's logo and post-processing elaborations
Data access through web API service
Energy consumption, minimum, maximum and average values of the instantaneous measures divided per time slots
Alarm management with e-mail notification
Parameter changing of devices in the field
User's access level management.
Programming SYNERGY does not require any particular computer knowledge.
Thanks to simple  and intuitive interface the Client is guided through the configuration of product networks, graphic pages, data log reports and charts, in a simple and intuitive way.
Server-multiclient system
SYNERGY structure and applications are based on a MS SQL relational database management system.
These characteristics make SYNERGY 
a highly versatile system, simultaneously accessible to a large number of users/ workstations via intranets, VPN or Internet.
Languages
SYNERGY is available in different languages: English, Italian, Spanish, French, Polish and Russian.
Other languages can be added for specific requirements.
Interface
The DASHBOARD view displays not only live data indicators, but also graphics and previews of Data Logs, all in a completely personalisable space accessible from any mobile device or computer.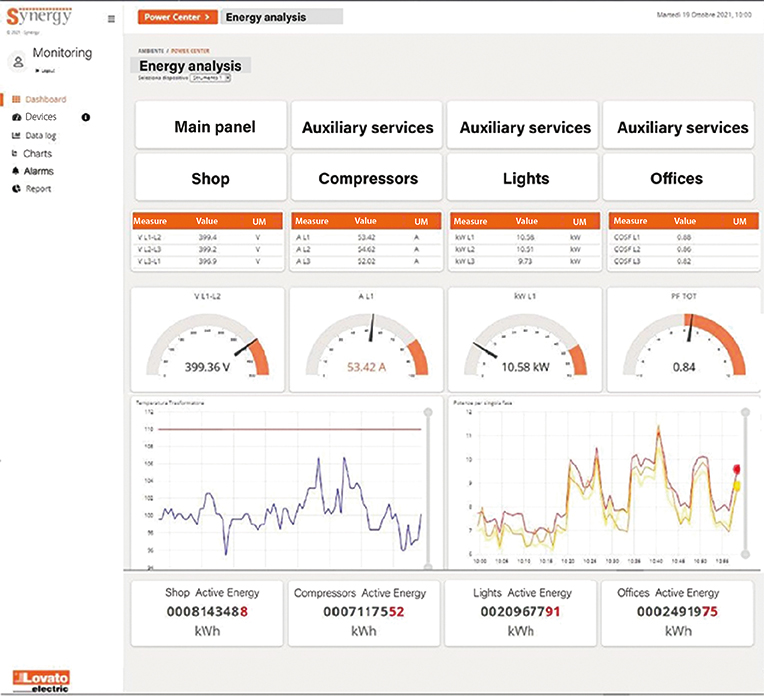 Access levels
The software has a multi-user, multi-environment structure.
SYNERGY provides access to a large number of users at three different level positions:

Admin
Complete access to all functions.

Power user
Can view only the devices defined by admin, creates and modifies pages, reports and graphs, exports and modifies device parameters.

User
Can view only the devices and pages defined by admin.
SYNERGY has 5 main components
The freely customizable dashboards with the dynamic objects of SYNERGY Cloud (indicators, counters, control buttons, etc.) allow to have all energy measurements and controls immediately available.
Data Logs are used by SYNERGY to collect its data.
The data can be viewed with the software itself, downloaded as files or shared over the Web API.
The graphs offer a quick overview of trends in the data collected by SYENRGY.
Personalisable, multi-coloured and multi-level, they are the ideal way to understand such trends at a glance.
Each value recorded in the archives (Data Logs) can be associated with one or more alarms, that can be reported with the option of automatically
sending an e-mail.
A specific menu allows the display of detailed information, silencing of alarms and searching of the Data Logs.
Reports are used to analyse consumption data and understand the detailed dynamics of the power drawn by the loads.
User-friendly graphics and a dedicated layout make it easy for the user to monitor the system's energy consumption.
Please contact our sales organization for any inquiry regarding quotations and purchase of the SYNERGY platform.