The structure and applications of 

 are based on an a MS SQL relational database system.


can be consulted through most popular browsers, and it is compatible with various platforms and operating systems.
These characteristics make 

extremely versatile and really easy to be used by a large number of users/workstations via intranets, VPNs or Internet.
System requirements
Supported operating systems

Windows 7, Windows 8.1 Pro, Windows 10 Pro, Windows Server 2008R2 std, Windows Server 2012(R2) std.

32bit or 64bit. Server systems must have framework .NET 3.5 active.

Before proceeding with installation, operating System must be updated to the latest official release of Microsoft

Note: according to the system configuration, in order to perform a correct installation of the software, the setup might require the access to internet and to Windows Update
Supported browsers

MS IExplorer, Google Chrome, Mozilla FireFox (latest versions of the browsers are highly recommended).
PC/Server hardware requirements

CPU dual core, 2GHz

RAM 4GB

Hard disk 60GB (disk size depends on the volume of data to be stored)

SVGA 1024×768, colore 16bit

RJ45 LAN ethernet card

Communication ports of an adequate type and number: Ethernet, RS485 serial, RS232 serial or modem.
N.B.:

is an application based on services (SQL and web), therefore it is not recommended the usage of laptops due to limited hardware and software performances
For further information about the hardware requirements please refer to www.lovatoelectric.com in the section dedicated to the software
You can get

by simply ordering the installation software (which also includes the license on one LOVATO Electric device) and the additional licences you may need, according to the number of devices that you wish to monitor.
Additional licences can also be added further. In this way the monitored system can be expanded through time, satisfying both ongoing and future needs.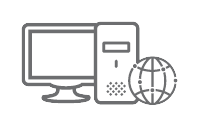 Order code
Description
Details
Ordering method
Software.
SYN1 SET
Energy Management and Supervision software
Installation on PC set as a server and equipped with Windows Operating System. Setting, measuring, monitoring and remote control via web with notification sending via e-mail and FTP. It includes the licence to supervise 1 LOVATO Electric product
Permanent licence
Licences
SYN1 SLL
Licence for nr. 1 LOVATO Electric product
Enabling of the remote supervision for 1 LOVATO Electric product equipped with communication port MODBUS-RTU
Permanent licence for each product connected
SNY1 SLX
Licence nr. 1 Third Party product
Enabling of the remote supervision for 1 Third Party product equipped with communication port MODBUS-RTU
Permanent licence for each product connected
SYN1 SDLWS
Licence accessing to the database of SYNERGY
Enabling the access via WEB API to the MS SQL database of Synergy from Third Party Softwares
Permanent licence
SNY1 SLM
Licence for receiving upgrades for SYNERGY
Enabling the upgrades for SYNERGY (e.g. compatibility with new Operating Systems, new functions and improvements)
Yearly licence for each product connected