Micro PLC's for controlling simple and moderately complex automations are a valuable supplement to energy management systems, since they are easy to install to the machines and electrical enclosures, with the following benefits:

measure process and ambient parameters like:
– states/alarms of switching and control equipment
– pressures, flow rates, temperatures, levels


control local automation

control loads on set days or at predefinedtimes

actuate switching equipment remotely.
Our Micro PLCs can be programmed with:
31 time/date timers

31 timed relays

31 counters (e.g. for number of operations, scheduled maintenance)

comparators and many other useful automation functions.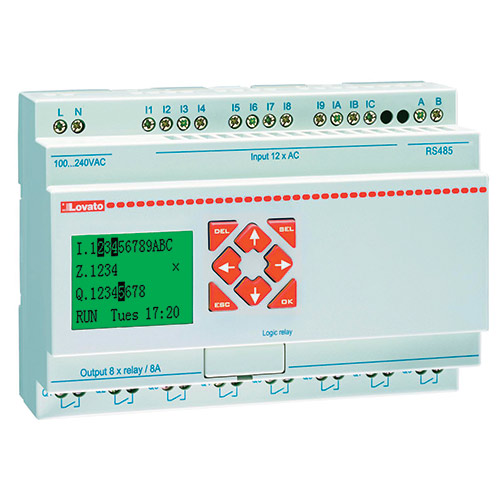 LRD20R D024 P1
Integrated RS485

12 inputs (including 4 configurable as analog 0…10V) and 8 relay outputs

Depending on plant requirements, the number of inputs/outputs can be increased by adding the relevant expansion modules.
Integration with
The states of digital inputs and outputs and the values of the analog voltage, current and temperature inputs all be viewed in the web pages of

. The "data register" can be used to modify most of the values micro PLC based systems. Internal logic allows users to send commands and force the states of digital outputs.